ABBA Arena, London
26 June 2022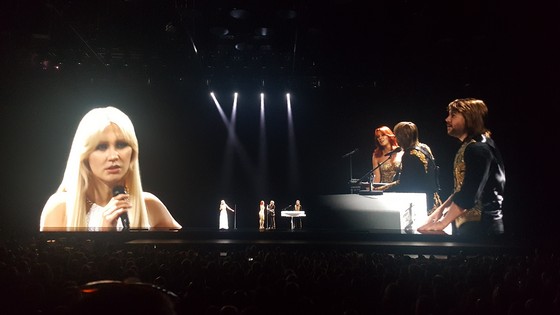 Okay so it's not really ABBA but holograms, but unless you knew beforehand you wouldn't know.
From their first arrival from beneath the stage they look solid and move as natural as can be, even the glitter dresses move and reflect light perfectly.
Musically it was spot on, the live band playing along to the vocals and even going solo on one song.
Already planning a second trip.
Setlist.
01. The Visitors
02. Hole in Your Soul
03. SOS
04. Knowing Me, Knowing You
05. Chiquitita
06. Fernando
07. Mamma Mia
08. Does Your Mother Know
09. Eagle
10. Lay All Your Love on Me
11. Summer Night City
12. Gimme! Gimme! Gimme! (A Man After Midnight)
13. Voulez-Vous
14. When All Is Said and Done
15. Don't Shut Me Down
16. I Still Have Faith in You
17. Waterloo
18. Thank You for the Music
19. Dancing Queen
20. The Winner Takes It All