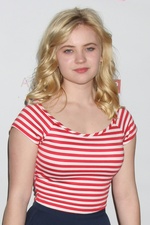 Asheville, North Carolina, USA


She first became known for participating on the game show Are You Smarter Than a 5th Grader? (2007–2008) before making her acting debut with a recurring role as Lilith on the television series Supernatural (2008). She also starred as Scout Thomas on the comedy television series Romantically Challenged (2010), and voiced Alice in the direct-to-DVD film Spooky Buddies (2011), for which she won a Young Artist Award.
McCormick then received recognition for her role as Susan Kushner in the comedy film Ramona and Beezus (2010) before having her breakthrough starring as Olive Doyle on the Disney Channel series A.N.T. Farm (2011–2014). She has since transitioned to more mature film roles, receiving praise for starring as Moira in the horror indie film Some Kind of Hate (2015) and earning critical acclaim for her role as Fay Crocker in the science fiction film The Vast of Night (2019), which led her to receive a nomination from the Critics' Choice Super Awards.